When you're exposing yourself on the Internet, you have to expect the occasional mean reaction. It's part of the game and you have absolutely no control over what people think of you or your clothes. Don't get me wrong: the great majority of my readers are kind, lovely and open-minded people. However, this morning, I came across a pretty rude comment about an outfit of mine. Well, I can't please everyone! I don't want to start a fight or anything, but I just want to make one thing clear: I run a personal style blog, not a fashion website that will show or tell you how to dress. I don't give advice, I provide inspiration. Here, I post outfits that reflect my very own tastes and, well, that's why I call it personal style. I'm one hundred percent aware that dressing this way is not for everyone and to be honest, I'm glad it's not. Imaging how boring it would be if we all dressed the same! I don't think many people would visit my blog if I dressed in ''typically fashionable'' stuff that I'm not comfortable in. I am authentic and if you don't like the way I dress, I'm pretty sure you'll find another blogger whose style will be more appealing to you. Or maybe you could start your own blog instead of complaining about other people's outfits?


Developing your own signature style requires much confidence to resist the pressure of trying to please everyone. Sometimes, I'll walk into a corridor and I'll get strange stares pointing directly towards my favourite yellow tights or I'll just go into the kitchen and my little brother will say: ''Mom, why is Noémie wearing such bizarre clothes?''. Or my mother will tell me that my furry vest if the ugliest thing in my whole tacky wardrobe. It's just small stuff, but sometimes it adds up and it makes me question the true meaning of ''style''.
Personally, I think that anything can be stylish. Literally, absolutely anything. You just need the confidence to pull it off. Most style bloggers have a very unique way of dressing, but they radiate confidence and they wear whatever pleases them, regardless of what other people may think. Be yourself, wear what feels right for you, pick only the trends you truly love and leave the rest to other people. Keep your mind open and dare to wear costume items, men's clothes, grandma's dresses, clown tights. Dress like a hippie on Monday and like a rockstar on Tuesday. Explore and don't let fashion rules limit you. Break them! Power to double denim, cuckoo-crazy print mixes and white after Labour day!
Dress: H&M (gift) // Vest: H&M (17$) // Belt: old from brothers
Tights: Simons (6$) // Boots: Zeria via Yellow (60$, best investment ever)
Here is a tiny sample of bloggers I admire. They all have a very unique take on personal style and even if I wouldn't see myself wearing every single of their looks, they're a great source of sartorial inspiration for me!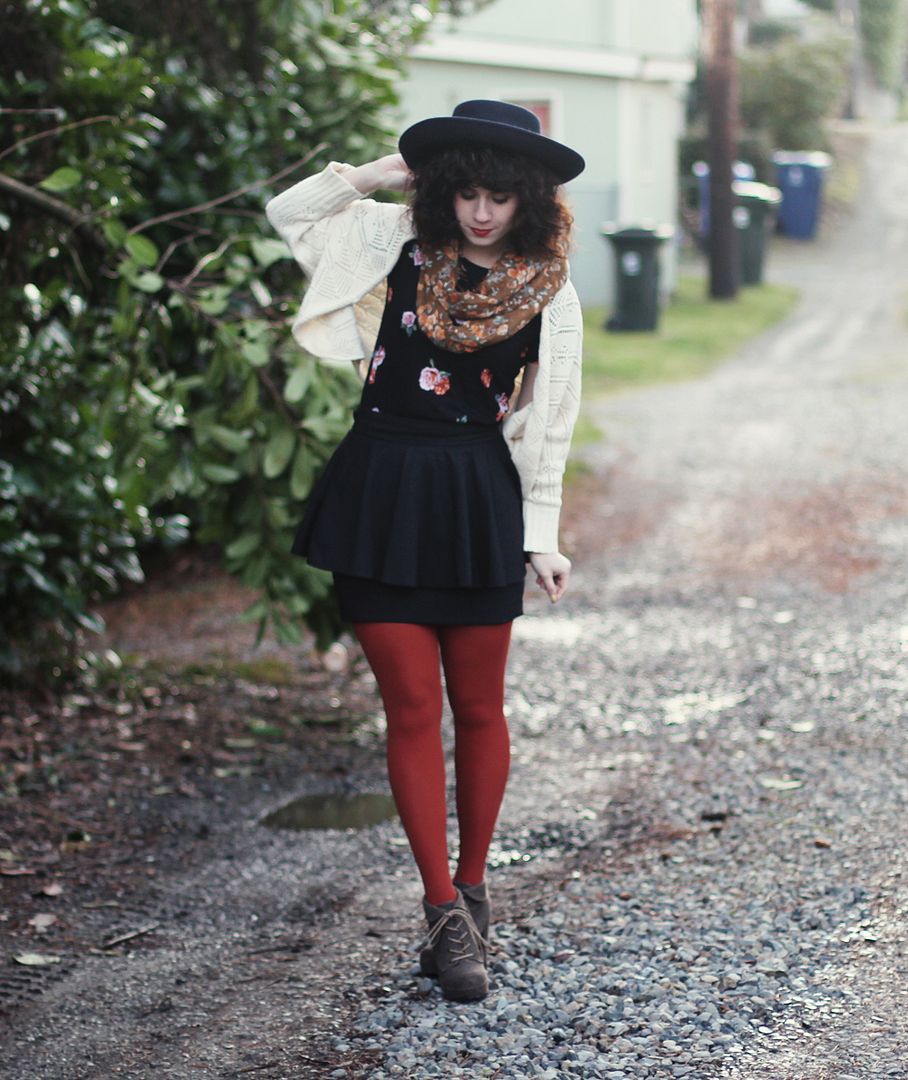 My all-time favourite: Elizabeth from Delightfully Tacky! I've been following her blog since 2008.
Being a Winnebago lover myself, I instantly related to her obsession with the legendary flying W. Awww!
An edgier lady (with the best hair ever!): Chaplinnn from Mini Penny
This girl is a true style chameleon. She's so daring! Bebe Zeva from Fated To Be Hated