Thank you so much for your kind words! My back still hurting, but the pain is slowly going away. From now on, I'll be more careful with it! Hehe
If you're wondering what I wore today, I recreated
this outfit
I wore in December. A huge pro of having a personal style blog is having a growing archive of looks that you can refer to when you're sick and not in the mood of styling a whole new outfit. Yesterday, I was trying on some clothes and everything looked bad with my dark circles and runny red nose, so I just browsed through my blog archive and picked an outfit I knew I would feel comfortable and relaxed in! :) Yay for blogs!
This week's list starts with my new husband, Fisherman's Friend! We've been hanging out non-stop since Saturday and now I'm stuck in an addictive relationship! Haha! I really wish mine came into a cute tin can instead of a boring paper bag. Oh, well. We're in love for better or worse.
SQUEEEEEE! No words for this one! I'm pretty sure this engine is my motorized soul mate.
Plus, it's my favourite shade of green!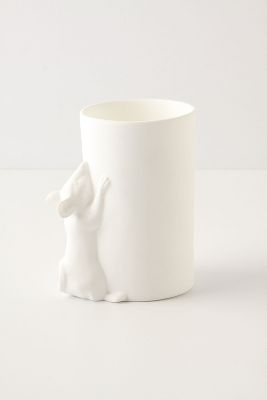 This crisp white pencil holder is so adorable!
(via
Anthropologie
)
(via
Mathilde Aubier
)
I was browsing for inspiration for my current design project and I came across this very creative veggie sculpture by Swedish photographer Carl Kleiner. Wow!
(via
Vanilla & Lace Shop
)
Here's a super sweet manicure idea! You know how much I like peter pan collars... If I weren't so clumsy with nail polish, I would surely give it a try. Haha!